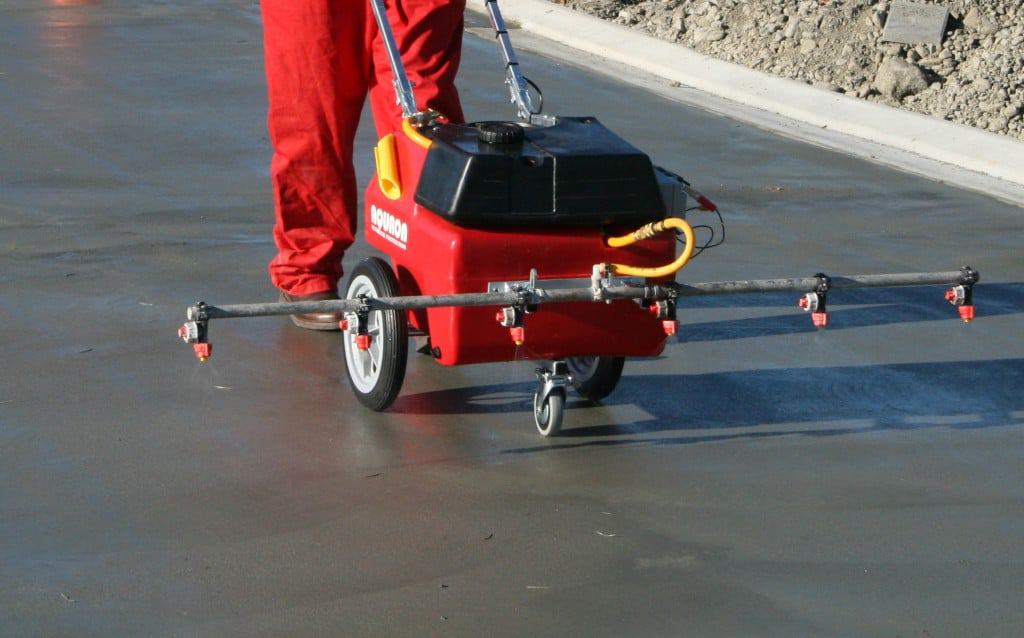 Love it or hate it, concrete is an amazing thing. Versatile, economical, durable and robust – no wonder concrete is the most widely used material in modern construction.

And if you're one of the many people involved in concrete-related planning or construction, there's an advanced family of concrete treatments which you need to know about.
AQURON CONCRETE HYDROGEL TREATMENTS
The biomaterial family called 'hydrogels' are perhaps better known for their uses in medical dressings or contact lenses. A hydrogel is any polymer gel in which the liquid component is water; or more specifically a network of polymer chains that are hydrophilic. Significantly, they are somewhat related to super-absorbent polymers (SAPs).

Hydrogels can be induced in concrete by the application or admixture of a colloidal silicate catalyst. This acts on the free limes and moisture in the concrete to progressively form the hydrogel within its porosity.

SO HOW ARE THEY USED IN CONCRETE CONSTRUCTION?
Hydrogel treatments can be used to improve curing quality – for anti-dusting hardening – for moisture control and sealing – and more. This brings us to the first BENEFIT –
BENEFIT 1: AQURON Can Replace Multiple Products.
For example, used on an exposed warehouse floor, the appropriate hydrogel can replace 1) the curing agent, 2) the sealer, and 3) the hardening / anti-dusting treatment – all in one application! Think of the cost and scheduling benefits to your project!
BENEFIT 2: AQURON Spray-Applied Curing is Equal to Water Curing …
… but take a lot less labour and time! For floor slabs in particular, the treatment can be spray-applied when the slab is just able to be walked on, and is trafficable one hour later. No need for extended hosing or boxed flooding of the slab. No need to grind away a curing compound later.
BENEFIT 3: AQURON Treatments are Environment (and People) Friendly.
Water-based, nil VOC, non-toxic and odourless, hydrogels are extremely safe, will not contaminate waterways, and are not unpleasant to work with.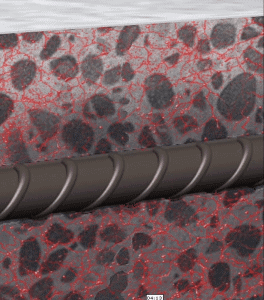 BENEFIT 4: AQURON Penetrates Deep.
Aquron 1000 and Aquron 2000 spray-applied floor slab treatments penetrate about 150 mm into the slab. There is no risk of later de-lamination such as encouraged by shallow-penetrating hardeners.
The Aquron 300 admixture version is even more effective, working its way throughout the slab.
BENEFIT 5: AQURON is Compatible with Other Products.
Hydrogel-treated concrete is fully compatible with any coating, adhesive or epoxy designed for bare concrete. This includes such applications as line marking, floor covering adhesives, or epoxy flooring.
BENEFIT 6: AQURON can be Used on Existing Concrete.
Aquron spray-applied treatments will bridge micro-cracking up to 0.5mm. This makes it useful for pro-active maintenance in the early phases of concrete ageing.


(A word of warning: Once concrete ageing sets in, many factors can contribute to deterioration. A professional assessment is always recommended.)
BENEFIT 7: AQURON Treatments Carry 15 Year Warranties.
Enough said. In fact, the Aquron treatment will endure for the life of the concrete, and extended long-term case studies are available.

Intrigued? Get in touch for more information, or to discuss your particular project!


DOWNLOAD INFORMATION ON AQURON 2000 – key multi-benefit hydrogel treatment »