Construction waterproofing is a vexed subject, and has been making far too many headlines in Australasia recently.
Particular challenges are faced by basement structures, such as used for car parking, storage and utility areas.
Concrete roof decks are also at risk.
These structures need long term waterproofing solutions. It is not commercially viable, and often not even possible, to fix or upgrade failed waterproofing systems.
Any solution must be able to last the expected design life of the building and more. Leave a legacy for the longevity of the structure!
The conventional method is to use a membrane for tanking. This has a number of drawbacks, including cost, installation challenges, and the difficulty of locating leaks in the event of failure.
Moisture, Steel Corrosion, and Structural Integrity
Not only is it crucial to keep the usable space dry, it is also imperative to maintain the integrity of the structure itself. Moisture is the biggest factor in the corrosion of reinforcing steel.
Markham adding life to concrete
As you may know, water can seep through perfectly intact concrete, given enough backpressure (e.g. forced by gravity).
To achieve a dry result, you need to waterproof the concrete itself. This provides a barrier against seepage which is not dependent on the durability of membranes or tanking.
A thorough concrete waterproofing solution
For a thorough concrete waterproofing solution, Markham Global offers BASE-TECT, a complete, guaranteed hydrogel waterproofing system, giving long-term peace of mind.
This includes an assessment of your project, including factors such as concrete design, site conditions and water table.
Design recommendations, documentation and detailing are provided, along with meeting key stakeholders to address all concerns. "The devil is in the detail" with waterproofing systems, and you need to be sure of a thorough, complete result. MARKHAM will then provide on-site support, with approved applicators, supervision and a strict quality assurance process. A true end-to-end service!
Essentially the system includes:
Hydrogel waterproofing admixture in the concrete mix,
Spray-applied penetrating hydrogel for curing and secondary waterproofing.
Joints are sealed with hydrophylic waterstop gaskets and polyurethane sealants.
This holistic approach to waterproofing has been proven for over 20 years, giving a long-term high-quality waterproofing result. It provides excellent value for money. Due to the limited detailing of junctions, it allows fast on-site installation.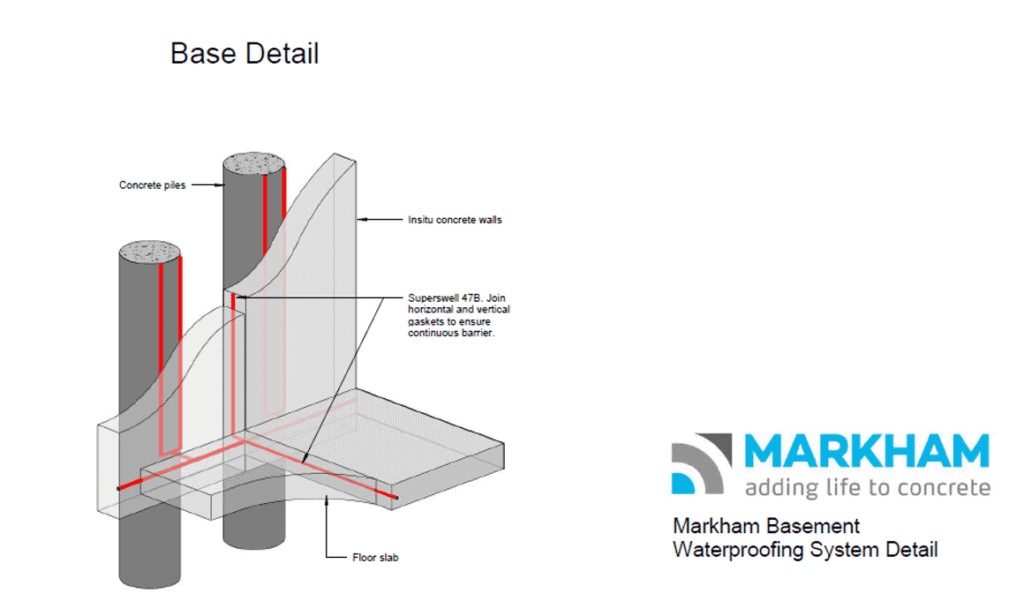 Can we completely replace the membrane?
In many cases, yes.
In fact we have assisted with a number of projects where a membrane was found to be impractical or impossible to install.
However, Markham is a transparent and risk-averse company, and if for any reason a membrane is still desirable, we'll be upfront and say so.
We are compatible with other systems.
Bring your concrete waterproofing project to us, for an assessment and recommendation.
Header photo by Ennio Brehm on Unsplash