And you would have good reason to – concrete as a natural untreated material is porous and allows moisture migration, especially when subjected to groundwater pressure. BUT wait … what if we can waterproof the concrete itself?
Basements in New Zealand and Australia
The most common basements in Australasia belong to commercial and multi-residential buildings, and this article focuses on these. (Single-dwelling domestic basements are not as common in the region as they are in other parts of the globe.)
A basement may contain habitable space, although more commonly the area is set aside for parking and utility rooms. The substructure will be in contact with the surrounding earth. There are likely to be penetrations for lift pits and services.
The great challenge is waterproofing.
Not only is it crucial to keep the usable space dry, it is also imperative to maintain the integrity of the structure itself.
Waterproofing below-grade structures is a big subject, and we'd like to focus on the concrete itself, rather than the penetrations and joints. As you may know, water can seep through perfectly intact concrete, given enough back pressure (e.g. forced by gravity).
Ideally, concrete's porosity should be permanently sealed against moisture movement within the matrix. This provides a barrier against seepage which is not dependent on membranes or tanking.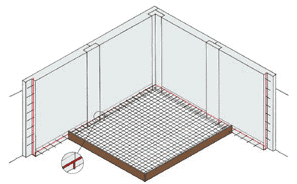 Can you waterproof concrete?
For a thorough concrete waterproofing solution, MARKHAM offers the complete and guaranteed BASE-TECT system, giving long-term peace of mind. Waterproofing hydrogel admixture is included in the concrete mix, permanently sealing the porosity through the entire thickness of the concrete, and waterproofing the concrete. This is valid whether the concrete is of precast or shotcrete construction.
Following placement, as curing commences, further treatment of catalytic hydrogel is spray-applied to the surface. This provides high-quality curing and penetrating hardening of the concrete. Joints are sealed with delayed-swell hydrophilic gaskets and polyurethane sealants.
The combination of these treatments, proven for over 20 years, gives a long-term high-quality waterproofing result.
If you are currently working on or planning a construction project which includes a basement area, contact the friendly team at MARKHAM to talk to us about the BASE-TECT system for your waterproofing design!