SCIENCE MEETS HISTORY
Concrete, as you know, is one of the most prolifically used construction materials on the planet.
We could say a few words about its longevity (and how that counterfacts its alleged carbon footprint). Or we could talk about its strength and versatility. Then again, there's its sheer cost-effectiveness. Holistically, concrete has a lot of benefits as a building material, hence its significance.
Not that there's much about concrete which hasn't already been said, of course. What other construction material has had so much study and research, or been the topic of so many white papers?
So it's possible we can't tell you anything new about concrete … maybe.
Ever heard of concrete hydrogels?
Of course, you have, you're a dedicated Markham newsletter reader. But you'll admit we're one of the few teams talking about the topic. There are not many others around the planet who are focusing on this intriguing technology. More about that later.
Let's step back a little. One of the key components in concrete, developing as it cures, is C-S-H (Calcium Silicate Hydrate). This combination occurs in various molecular forms and acts as a binder within the matrix of the mix.
The atomic structure of C-S-H is similar to Tobermorite, a rare crystal which can occur in nature and is also found in ancient Roman concrete. And here we touch on history.
A brief look at Roman concrete
The Romans developed an early concrete and used it extensively – many examples of which still survive 2000 years later. They favoured the use of pozzolanic volcano dust in their mix, which had a high content of alumina and silica. This produced a tough concrete which was highly resistant to seawater. (Some forms would even set underwater.)
Concrete technology was largely lost after the fall of the Roman Empire until its re-discovery about 1000 years later.
Development was slow even then, but with the Industrial Age, concrete technology once again became the subject of investigation, and modern 'Portland' cement was established as a prime ingredient around 1840. Not that it had all the benefits of the ancient Roman mix design…
And Hydrogels?
The Industrial Age was an era of heightened study and curiosity across all fields, and this included the composition of materials with a view to finding how things worked, whether for scientific and/or commercial interest. The first mention of 'hydrogels' appears in a German paper on the metal copper, in 1896. Over time they have become commonly used in a range of medical and body care applications, such as wound dressings, contact lenses, baby nappies, and even drug delivery. Hydrogels also appear in agriculture, for water retention, and for agrochemical release.
Somewhere around the 1940's, it was discovered that a hydrogel formation could be induced in concrete, by the introduction of nano-particle silicates. This forms a C-S-H type molecule, utilising uncured limes and free moisture already within the slab, and at the same time immobilising them – in a gel. A hydrogel.
The technology was successfully trialled for waterproofing a London subway tunnel, in the 1950's.
The two technologies – concrete and hydrogels – had met.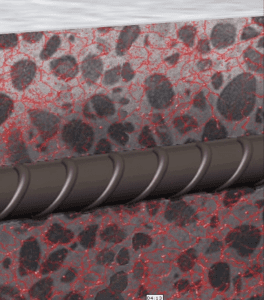 Commercial development
Identifying the concept of the induced hydrogel was significant. The next challenge was to make the technology commercial reliable, predictable, and viable. This was achieved in the early 1980's, notably by Aquron Corporation. A number of notable examples of the early use of concrete hydrogels included
Protecting concrete seating in a major stadium, from soft drink attack.
Protecting concrete driveways and parking garages in snow zones, from freeze-thaw cracking.
Waterproofing free-formed concrete swimming pools.
It became evident that the benefits of high-quality concrete hydrogel treatments were permanent, enhancing the life of the concrete and never needing re-application.
New direction in New Zealand
In 1996, Aquron Corporation was approached by the team at MARKHAM, and a new direction was developed. MARKHAM achieved early success waterproofing a university basement in Christchurch, which is in (dry) use to this day. They then worked with AQURON to develop the product in various directions for multiple applications…
A sealer and anti-dusting hardener, for warehouse and car park floor slabs.
As a moisture control system – avoiding adhesion and bubbling under commercial floor coverings.
A chloride-protection variant, for marine and civil infrastructure remediation.
Most recently, a hygiene sealer, for aged care and healthcare institutions.
An amazing array of benefits
Extensive testing in MARKHAM's own laboratories, and by various independent entities, showed that the simple technology of immobilising moisture has an amazing array of benefits.Markham Adding Life to Concrete
Enhanced curing – because the moisture differential through the slab is minimised.
Moisture control under floor coverings – because the moisture cannot freely rise as vapour out of the slab.
Waterproofing – the porosity of the concrete is sealed against water entry or movement.
Hardening and dust control. AQURON hydrogel treatment penetrates to 150mm, avoiding the risk of delamination which is so common with shallow concrete hardeners.
Protection from contamination. Moisture-borne contaminants, the key cause of concrete deterioration, cannot enter the slab, move about, or react freely. Importantly, this protects against chloride and sulphide attack, or the internal development of ASR and DEF.
UP TO DATE
If you're involved with concrete in the construction industry, or the maintenance of concrete infrastructure, there's a fair chance we can help make your job easier in some way.
Markham Adding Life to Concrete
Improve concrete quality? Save money? Speed up processes? Enhance service life? Reduce repair bills?
Markham Adding Life to Concrete
Talk to us. Collectively, our team has seen more than its fair share of real sites and projects, and we know what works where. Get in touch today!
STOP PRESS!
Ask us about new sustainably-sourced waterproofing admixtures!
---
Another entity working in the field of concrete hydrogels is Intelligent Concrete LLC, of Colorado USA. We encourage you to review their content and research.
They've even created a white paper on New Zealand's pioneering attitude to innovative technologies, and what this means for hydrogels!